We are accepting new applicants for positions on the Not Ready for Bedtime Players! Interested applicants should be available on Wednesdays from 6-9pm, and able to commit to at least two semesters on the troupe. Those interested in applying should fill out this initial interest form, and will then be sent a longer application (due by midnight on Wednesday February 8th):
https://forms.gle/rayE9wHjRFU46yCy7
Who we are looking for: students interested in sexual health and/or education; people interested in trying theater or improv (prior experience not necessary); and people who want to have fun with a goofy, upbeat team.
What's on the horizon for this semester: going to NYC to visit the Museum of Sex and see performances at the People's Improv Theater of NYC; leading workshops for students about healthy relationships, pleasure, and more; hosting an open mic night and "Q&A with a Sex Therapist" event!
You will be sent our application once you fill out this contact form:
https://forms.gle/rayE9wHjRFU46yCy7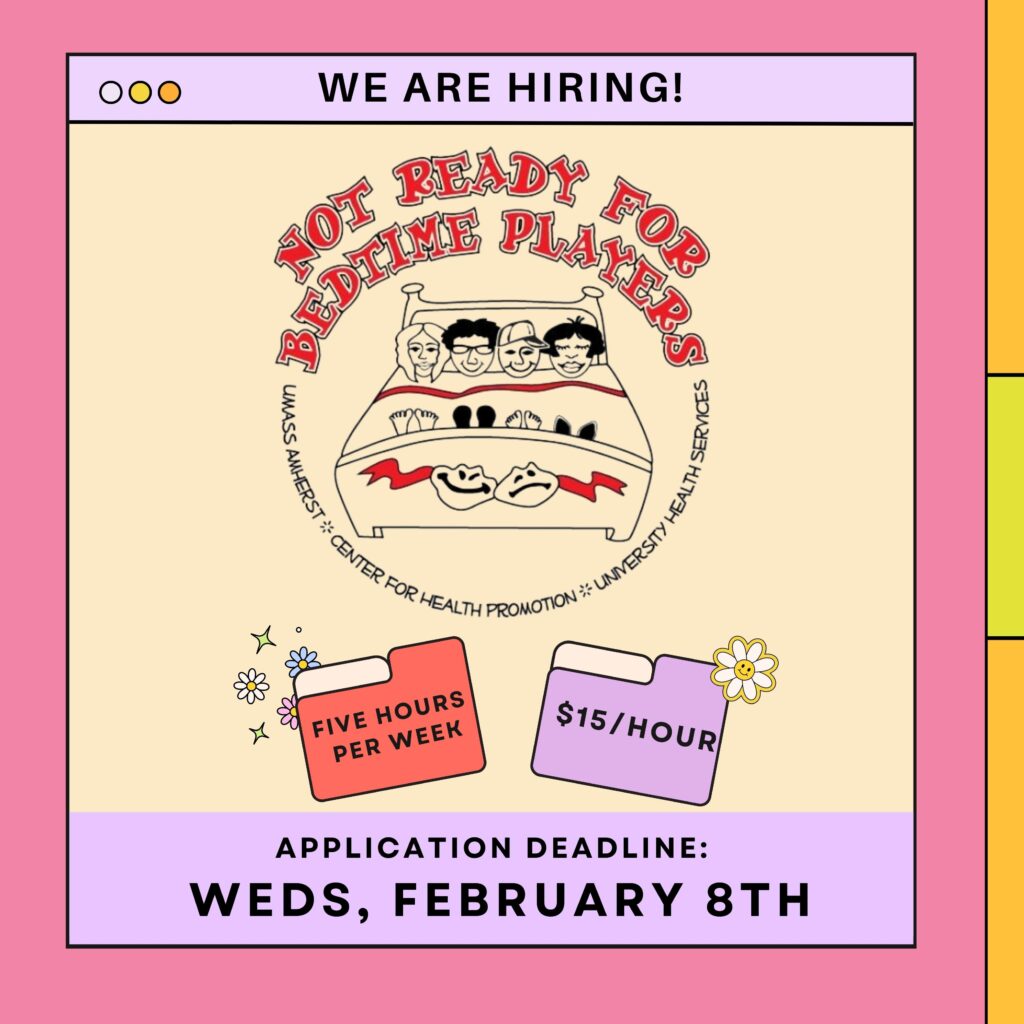 The longer position description is below:
"Not Ready for Bedtime Players" Position Description
Title: Undergraduate Student Worker
Department: Center for Health Promotion
Program: Not Ready for Bedtime Players
Supervisor: Tommy Claire, Health Promotion Specialist
Weekly Hours: 5
Stipend: $15 per hour for the appointment term, paid bi-weekly
Appointment Term: Academic Year August 27, 2022- May 10, 2023
Periods of Non-Responsibility: N/A
Appointment Renewal:  Appointments are for the stated appointment term only and there is no guarantee of appointment renewal.
Student Affairs and Campus Life (SACL)
Student Affairs and Campus Life is committed to providing meaningful experiences for students, particularly when these experiences enhance SACL priorities and are relevant to the pursuit of the student's professional goals. It is within this context that SACL makes this available.
General Summary of Position
The Not Ready for Bedtime Players (NRBP) is a sexual health promotion and social justice peer theater troupe which performs in residence halls, Greek areas, and at on- and off-campus events. This position involves recruiting, training peers on health and wellness-related issues as well as theatrical techniques. An additional component of the position is managing the social media presence of the troupe and creating multimedia content about troupe activities for various platforms: TikTok, YouTube, Facebook, Twitter, etc.
Typical Duties and Responsibilities
Assist with recruiting and training peer workshops and performances on behalf of the Troupe Director and the Center for Health Promotion.
Attend weekly rehearsals/trainings and two all-day rehearsals/trainings.
Assist in the development of written, visual, and multimedia materials including video and social media content; coordinate advertising materials and promotion activities.
Assist in the development of culturally-appropriate educational programs and materials.
Assist with data entry and statistical manipulation of program evaluations.
Available to conduct evening programs/performances and maintain scheduled daytime outreach hours.
Provide wellness and sexuality information and/or referral services as needed.
Maintain ethical and professional confidentiality as well as cultural competency.
Staff and assist with special Center for Health Promotion outreach projects, including social media.
Other duties as assigned.
Compliance Requirements
Student employees in Student Affairs and Campus Life have specific expectations placed on them as employees of the University of Massachusetts Amherst. Among these is the requirement to fulfill reporting responsibilities as prescribed and required under applicable federal and State laws. These include but may not be limited to requirements under Title IX; Clery Act; FERPA; HIPPA; Massachusetts Conflict of Interest laws. Additionally, this applies to adhering to University policies and agreements (e.g., collective bargaining agreement).
Fulfilling these expectations includes addressing and reporting related violations by students, staff, faculty or others. Related training will be provided. These expectations may be amended in conjunction with changes in Federal and/or State mandated reporting requirements, and/or University policies or agreements. Students unwilling to meet these requirements are not eligible for employment.
Minimum Required Qualifications
Enrollment as a student in good standing during entire term of appointment.
Eligibility for employment as determined by the Center for Health Promotion.
Availability to serve the entire academic term.
Willingness to perform all mandated compliance reporting and related requirements.